2021 Social Activity Stories
Our Christmas get-together
Our Committee decided the safest option for our Christmas get-together would be to again meet in Speers Point Park for a picnic lunch on Friday 3rd December. As was the case last year, the Club booked the large Open Shelter (near the Stage) to cover any vagaries in the weather.
As it happened we got reasonable weather despite the forecast.
24 intrepid members gathered for what turned out to be a very pleasant picnic in the park. All enjoyed the day.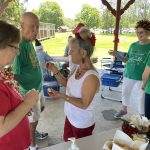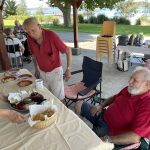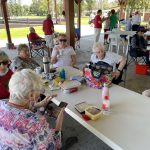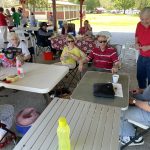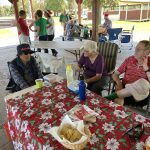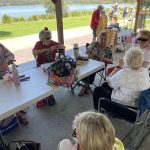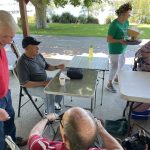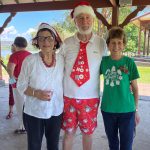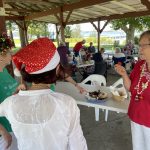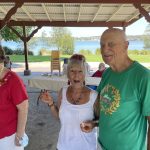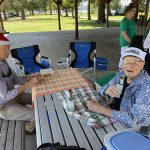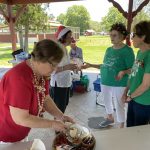 ---
Our Social outing nature walk and photographic opportunity at Tilligerry Habitat along with Tanilba Bay Foreshore Reserve, Tanilba Bay had to be postponed. Maybe we will be able to reschedule it for next year.
---
Saturday 1st May 2021 – Car Observation Run
Starting point was McDonald Jones Stadium, with a route taking us through Broadmeadow, Islington, Carrington, Mayfield North, Kooragang Island and finishing in Stockton where we lunched at the Boatrowers hotel.The weather was kind to us and we all enjoyed a great day out.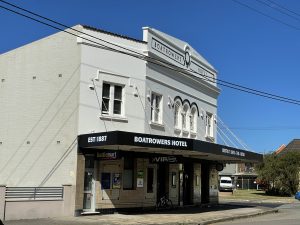 ---
Monday 19th April 2021 – NSW Seniors Festival event – Learn & Lunch (in the Islington School Hall)
We had an excellent turn out of participants (best we've had for years). Everyone appeared to enjoy the program and were very active in their participation. The BeConnected presentation from Carolyn Keane & Mitzi Gordon on Smart Home devices was well received. The photos taken at our last social day out were displayed on the big screen in a slideshow and smaller versions were printed and posted on boards around the room for judging by those in attendance.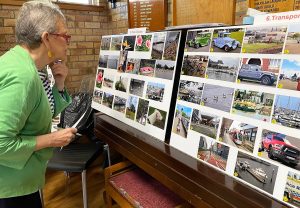 The sandwich lunch went down well also.
The major lucky door prize went to Ian Watson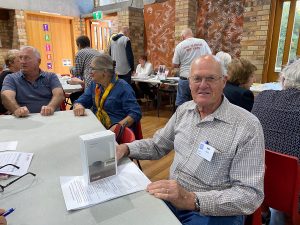 ---
Saturday 6th March 2021 – SOCIAL DAY OUT – A WALK
With the Bureau of Meteorology report promising???? a cloudy day with a possible morning shower, 20 intrepid photographers gathered in Carrington for a photographic walkabout.
Cards were handed out showing 8 topics to capture, all within a marked territory on the participant's maps, covering parts of Carrington, Maryville, and Wickham. With one of the topics being Exercise, a few shooters grabbed an early lead by snapping a short 4-legged canine chasing after his athletic master around the adjoining park – quite a laugh for all to see. The wide range of topics to cover saw the field quickly scatter in all directions, hoping to capture those special shots. With 4 'eateries/drinkies' located throughout the target area, there was ample opportunity to call in for a pit stop refresher. With their mission accomplished, the shooters then dispersed in all directions to fill in the rest of the day, no doubt a little weary in the legs, but hopefully satisfied with the result of their efforts. Participants were invited to submit 2 entries in each category to be judged in a popular vote at the upcoming Seniors Festival Learn & Lunch in April.
(The winning entries are shown below – thank you to all who voted on 19/4 and the Tally people)

2020
Christmas Picnic Lunch
On Monday 30th November under somewhat grey skies, 39 members were present to celebrate a ComputerPals Christmas Lunch with a difference, held this time as a picnic in Speers Point Park due mainly to the ongoing COVID-19 restrictions.
Fearing a Summer heatwave or storm, a decision was made to hire the large, level shelter at the park, enabling members to dodge the possibilities of a hot sun or rain. This decision was vindicated, as an exercise group were occupying the shelter on our arrival and shortly after, a ladies Probus group had intended using it also. A couple of showers added to the justification for this move.
Possession settled, members rolled up with all the usual picnic fare, those forgetting their tables able to dine comfortably thanks to Fred Neal supplying 4 long ones. The shelter provided enough room for those present to sit or move around and mingle while adhering to socially distancing rules. Barry Keen then presented certificates to members who gained awards for the recent ASCCA Photography competition, and for all families an informative publication regarding online safety for grandparents and carers.
With tummies satisfied and conversations slowing, it was time to pack up after what had been a happy occasion for those present. Beryl and I would like to take this opportunity to wish all members a very Safe and Happy Christmas and New Year – it must surely be better than 2020.
Brenton