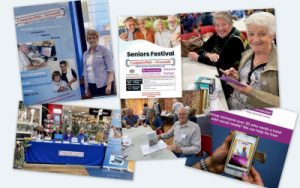 What ComputerPals Newcastle offers:
Face-to-face Be Connected classes and much more run from Club Lambton on Monday, Wallsend Library on Tuesday and Hamilton Library on Wednesday.
Click here to go to our Venues page for times.
Courses run by our Education Team or supplied by the Australian Seniors Computer Clubs Association (ASCCA).
Online ZOOM sessions for other classes (you will receive emails about upcoming classes). Also, you can send us an email to enquire what's on and when and how to get onto the session.
Regular social outings to members. Click here to see our Social Activities.
We are a registered charity.
Be Connected – What is it?
Be Connected is an Australia-wide Federal Government initiative empowering all Australians to thrive in a digital world. There are online learning resources as well as a network of community partners – the Be Connected Network – who offer in-person support so you can develop your digital skills and confidence.
Click here for more information on BeConnected.
Click here for the current timetable.
Courses by
ComputerPals
Here are some topics you might be interested in learning about:
Learn about Windows 10/11.
Understand your android apple phone or tablet.
Take better photos and create your own photobook.
Learn about internet and email security.
Special Interest groups – Digipals, MemoryPals and WriterPals.
Click here for information on ComputerPals Courses.
Click here for ComputerPals course descriptions.
Click here for more information on the special interest group.